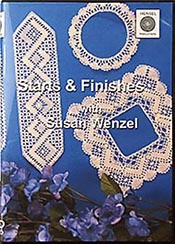 Starts & Finishes with Susan Wenzel
Running time: 3 hr 40 min
Price: US $52
Full details for ordering, shipping and payment of all our programs can be found here
Susan Wenzel has been teaching bobbin lace for over 18 years. She learned to make lace in 1987 in England and also studied in Belgium and Holland. In her most popular class, originally entitled "Back to Basics", she developed many of the techniques she uses to start and finish bobbin lace pieces.
In this program, Susan demontrates her own unique approaches to starting and finishing a variety of torchon lace projects. Susan explains each of her techniques with diagrams and demonstrates them on the pillow. Projects include: a bookmark with a whole stitch start and a braided ending, a bookmark with a false footside start and a woven ending, a bookmark starting and ending with picots, a circular torchon edging with a Flanders-style overlapped finish, an edging starting at the footside and an edging starting and finishing along a gimp thread.
Included with this program are four pattern sheets with the six projects Susan demonstrates on camera and two additional prickings for further practice, along with working diagrams for each pattern.