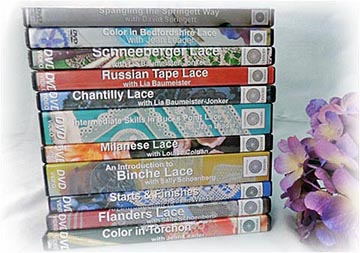 Our Programs — Details & Prices
We have a wide variety of instructional lacemaking videos on our site. You can find prices and full information about each program on the individual pages available from the menu. Each title includes a boxed set of DVDs and instruction sheets with working diagrams and pattern prickings. Alternatively, all of our boxed set programs are available on USB thumb drive. These are also accompanied by the appropriate working diagrams and pattern prickings. In many cases it is possible to put multiple programs on a USB. Contact us for details about this offering.
Postage
Within the continental USA please include media mail postage: $4.50 when ordering 1 or 2 program titles; and $5.00 when ordering 3 or more programs.
When ordering our publication ONLY, please add $4.50 postage. When ordering with program(s) the book postage is free.
Outside the USA please contact us for information on postage costs.
Payment by check or money order
Checks or money order should be made payable to:
J & K Hensel
146 Chapala Drive
Santa Rosa, CA 95403
Payment by credit card or PayPal
You can pay us through PayPal by major credit card, even if you do not have a PayPal account (and, of course, if you have one).
Make payments to: sales@henselproductions.com

Contacting us
You can contact us at the postal address above, or
By phone: 818-314-2849
By email: sales@henselproductions.com