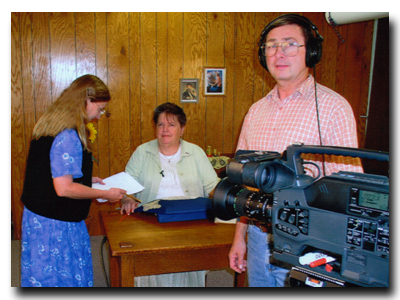 At Hensel Productions we unite Kathy's passion for lace with John's professional Hollywood expertise to produce instruction in a wide range of styles of lace. Our comprehensive videos feature renowned experts from all over the world, and you can find details on the individual page for each title.
We began producing lacemaking videos in 1989 in collaboration with Christine and David Springett of The British College of Lace. The first 19 video programs were filmed over a period of seven years. 15 of these were lacemaking programs and four were woodturning videos scripted by David Springett. Several years later when the college closed, video program production stopped. Most of these early lacemaking programs are still available for purchase from Van Sciver Bobbin Lace in Ithaca, New York or directly from C & D Springett in Rugby, England.
In 2003, we decided to produce instructional programs again. Our first new program, Russian Tape Lace with Lia Baumeister-Jonker, was released. Since then, 13 other programs have been produced and more programs are in the planning stages for the near future.
Kathy has a Bachelor's degree in Philosophy from UCLA, and Masters degree in Teaching from Pacific University. She has worked as an elementary school teacher and school librarian in California and, most recently, assisting with video production and acting as webmaster for a Eugene, Oregon-based company. Kathy not only serves as the consultant to the teachers, but also consults during the editing phase of each program. In addition, she has designed and created the layout for the print materials and pattern sheets as well as authoring the program menus. Kathy has been and continues to be a passionate bobbin lacemaker and also enjoys lace knitting, tatting, Hardanger and counted cross stitch.
John has an Associate of Arts Degree, and in 1977 did an apprenticeship in filmmaking at 20th Century-Fox Studios in Beverly Hills, California. He was employed there for 17 years working in film editing on such television series as Trapper John, M.D., L.A. Law and many television movies and feature films. For the subsequent 15 years John continued working in filmmaking at a Eugene, Oregon-based company producing, directing and editing videos on CPR and First Aid topics. John constructs the sets, does the camera work and edits the video programs.
The Hensels retired in 2011 and recently moved to Santa Rosa in the North Bay area of California.
Contact Information
Checks or money order should be made payable to:
J & K Hensel
146 Chapala Drive
Santa Rosa, CA 95403
Phone: 818-314-2849
Email: sales@henselproductions.com