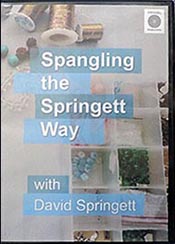 Spangling the Springett Way
Running time: 18 min
Price: US $21.50
Full details for ordering, shipping and payment of all our programs can be found here
Lacemakers in the East Midlands counties of England began to add a ring of glass beads to the tail end of their lace bobbins early in the Nineteenth Century. This gave their bobbins an attractive appearance while at the same time adding weight to the bobbins, helping to keep the threads straight during work. It is a tradition which most English lacemakers still follow today, but attaching the glass beads, or spangle as it became known, can be a tricky task.
This 18 minute program shows you two traditional methods of spangling a lace bobbin.
The first is the simplest arrangement of nine glass and metal beads using a very neat method of finishing which enclosed both ends of wire within one of the beads. The detailed explanation and close-up demonstration of the technique makes the process easy to follow, even for the inexperienced lacemaker.
The second is a more elaborate spangle called a birdcage. This is an intriguing name for a large center bead enclosed within a series of bars made up of tiny glass beads strung on fine brass wire. An enjoyable challenge for even an experienced lacemaker!
David Springett started making lace bobbins in 1977 and has been teaching his method of spangling to lacemakers ever since. Lacemakers all over the world have now mastered the art of "Spangling the Springett Way".