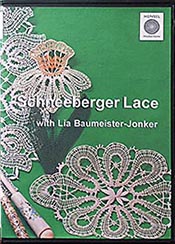 Schneeberger Lace with Lia Baumeister-Jonker
Running time: 4 hr 18 min
Price: US $52
Full details for ordering, shipping and payment of all our programs can be found here
Lia Baumeister-Jonker has been making lace since 1975. She served as President of the Dutch Lace Society, LOKK, for eight years and was a founding member of the Board of Dutch Lace Education which runs courses for lace teachers and teaches numerous different laces. Lia has traveled extensively around the world to study and teach many different types of lace.
In this DVD video program, Lia introduces you to this popular lace from the Erzgebirge region of Germany, with background information on how this lace came to be made in this area. Four patterns are used to demonstrate how to make Schneeberger lace: two edgings, a flower motif, and a mat. Each of the following techniques is clearly shown using diagrams and demonstrations: starting the lace, 3-pair crossings, adding pairs for the outside plait, working the outside plait and connecting it to the lace, false plaits, working leaves, making crescent-shaped leaves, working around corners in both cloth stitch and whole stitich, working a Schneeberger dip, 4-pair crossings, adding in pairs for the fillings, taking plait pairs through the tape, the Marguerite filling, a leaf filling, sewing out and finishing with bundles. An extra practice pattern is also provided to reinforce using the techniques presented in this program.
Included with this program are four pattern sheets with the four projects Lia demonstrates on camera and the additional Daffodil pricking for further practice, along with working diagrams for the Marguerite Filling and the Leaf Filling.