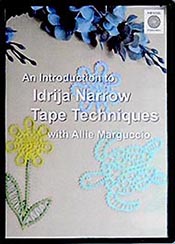 Introduction to Idrija Narrow Tape Techniques with Allie Marguccio
Running time: 4 hr 20 min
Price: US $52
Full details for ordering, shipping and payment of all our programs can be found here
Allie Marguccio is a retired elementary school librarian, lace maker and lace teacher. She has recently begun designing her own lace patterns in the Idrija lace narrow tape technique. Allie was awarded a grant by the Pennsylvania Counsel on the Arts to study traditional lace making techniques in Slovenia under the tutelage of Master Teacher Stana Frelih of the Idrija Lace School in Idrija, Slovenia.
Allie teaches private classes in West-Central Pennsylvania, where she lives, and has taught numerous workshops throughout the United States. Her work has been exhibited at The Bottles Works Ethnic Arts Center in Johnstown, Pennsylvania and at the Governor's Mansion in Harrisburg, Pennsylvania. She has contributed articles to The International Organization of Lace's Lace Bulletin, and Allie is one of four folk artists featured in the 2018 PBS documentary entitled, "Pennsylvania Traditions: Woven Together". She is a member of the Five River's Bobbin Lacemakers, Finger Lakes Lace Guild, International Organization of Lace, Inc., and OIDFA.
This 4 hour 20 minute program features three patterns: a Shasta Daisy, Shasta Daisy with stem and leaves, and a Sea Turtle. Also included is a section on "Tips and Tricks". These are all shown with diagrams and many of the techniques are demonstrated on the lace pillow. Techniques explained include: 5-pair cloth-stitch narrow tape, double-stitch tape, the triple join, the 4-way join, a rainbow start, starting and finishing on a tape, the gentle turn, turn with a temporary pin, a rectangular corner, the pointed corner, end sewings on a tape, adding beads to Idrija lace, how to wind a bobbin, how to work on a bolster pillow, preparing the pattern, a weaver's knot, understanding pattern markings, sewing a double join, plait work with sewings, making the first loop of a double join, redistributing migrating twists, and changing threads to a different color.