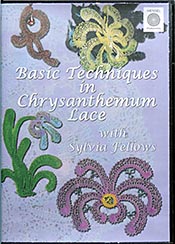 Chrysanthemum Lace with Sylvia Fellows
Running time: 3 hr 27 min
Price: US $52
Full details for ordering, shipping and payment of all our programs can be found here
Sylvia Fellows has been making lace since 1987, inspired by seeing a lace maker at a county fair. In the beginning she was self-taught using the few, but very good, books available at the time. She explored many different styles of laces with the excellent teachers at the International Organization of Lace, Inc. (IOLI) annual conventions. In 2015 Kim Davis from The Lace Museum in Sunnyvale, California, asked Sylvia if she would be interested in teaching Chrysanthemum lace, which inspired her book, Chrysanthemum Whimsies.
Chrysanthemum lace is a very accessible lace for intermediate lacers who have learned the basics of making bobbin lace.
This video shows the techniques for the basic parts of the Chrysanthemum "petals". Techniques shown are Cloth Stitch, Pin Pivot and Split or Cut Spider Ground. The program begins with a basic petal and continues applying the techniques with two other patterns, a flower design and a hanging pendant, plus a bonus pattern.