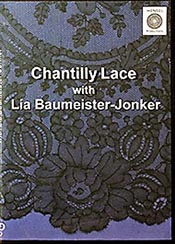 Chantilly Lace with Lia Baumeister-Jonker
Running time: 3 hr 57 min
Price: US $52
Full details for ordering, shipping and payment of all our programs can be found here
Lia Baumeister-Jonker has been making lace since 1975. She served as President of the Dutch Lace Society, LOKK, for eight year and was a founding member of the Board of Dutch Lace Education which runs courses for lace teachers and teaches numerous different laces. Lia has taught lace making in Holland, England, Germany, Canada and the USA.
Lia began to study Chantilly on a trip to France with LOKK. She has taught Chantilly at several IOLI conventions around the USA and given countless Chantilly workshops to individual lace groups.
Chantilly lace is a black silk point ground lace. It became popular in the 19th century and was used extensively on fashions and accessories. Motifs in Chantilly are most often worked in half stitch. Sometimes other decorative stitches are used in the lace. Chantilly is made with untwisted unboiled black silk threads; and for the coarse pairs, untwisted boiled black silk thread is used.
This video provides instruction in the techniques needed to make three edgings in Chantilly lace. A Chantilly bookmark pattern is included as extra practice in applying the techniques presented. One repeat of each edging pattern is worked on camera with pin-by-pin instruction. By viewing this tape from start to finish before beginning to make the lace one will gain a good understanding of how Chantilly is made.